Special Edition
Written by J.P.Boggis (AKA JC Digita) - (C)Copyright 1994-2001.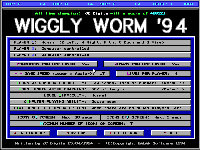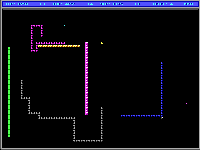 (Click on above pictures to view actual-size...)

Wiggly Worm '94 Special Edition is an updated version of the classic worm/snake game, featuring multiplayer game play, levels, power-up icons, lots of configuration options for varied game play, etc.

It was developed in 1994 using Borland Turbo Pascal 6.0, but is known to work with Turbo Pascal 7.0 also. It runs under MS-DOS and Windows 9x. It will not currently run under Windows 2000.

Wiggly Worm '94 Special Edition has the following features:
Up to 3 players can play at once! (Either human or computer controlled - great fun!)


Laser that can be used to blast through worm segments (Or even walls if you collect the right power up icon.)


Ability to make other worms crash by shooting them on the head with the laser.


Hundreds of levels (Which get increasingly difficult as you progress.)


24 power up icons to give you that extra advantage!


Lots of game configuration options (Letting you make the game play easier, harder, etc.) which can be changed by clicking on their on-screen buttons with your mouse or by pressing the appropriate key on your keyboard.


Mouse support (For the game configuration options.)
This program is free software; you can redistribute it and/or modify it under the terms of the GNU General Public License as published by the Free Software Foundation; either version 2 of the License, or (at your option) any later version.

This program is distributed in the hope that it will be useful, but WITHOUT ANY WARRANTY; without even the implied warranty of MERCHANTABILITY or FITNESS FOR A PARTICULAR PURPOSE. See the GNU General Public License for more details.

You should have received a copy of the GNU General Public License along with this program; if not, write to the Free Software Foundation, Inc., 59 Temple Place, Suite 330, Boston, MA 02111-1307 USA

Click HERE to download Wiggly Worm '94 Special Edition
Click HERE to download the Pascal source code